Welcome to Studio X Ottawa Inc.
Right across Lebreton Flats (minutes away from Downtown Ottawa and the Chaudiere Bridge), Studio X Ottawa offer Latin Dances classes (Salsa, Bachata, Merengue, Cha Cha Cha), group Fitness classes (Piyo Live, Pound, Zumba, Zumba Toning, Zumba Sentao, Strong by Zumba) and hourly studio rental services for classes and social events (event venue).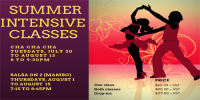 Have you heard about our Summer Latin dance Intensive classes we will be having in July? Click here for more info!
OUR SERVICES