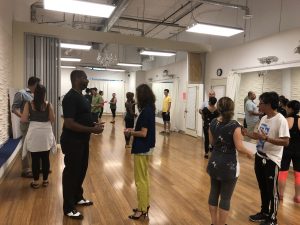 Ever dance in your living room picturing yourself on stage with the best of them? Ever dream of becoming a big name in the Latin Dance Industry?
No matter what your goal is. You can start here. Here is your chance to bring your dream to the next level and learn to Latin dance in a fun environment with Studio X Ottawa instructors. Studio X Ottawa Inc. offer some of the most popular Latin Dances: Bachata, Cha Cha Cha, Mambo, Merengue, Salsa, etc.
Now is the time to move to the music and dance like nobody is watching. Be the star in your next Dancing with the Star or So you think you can dance fantasy!
NEXT SESSION: (Last session before our Summer break)
SALSA:
– Beginner 1: Mon., June 3 to 24, 2019 – 7-8pm (Soul & Nadège)
– Beginner 2: Mon., June 3 to 24, 2019 – 8-9pm (Soul & Nadège)
– Intermediate: Thur., June 6 to 27, 2019 – 7-8pm (Soul & Nadège)
– Inter-Advanced: Thur., June 6 to 27, 2019 – 8-9:15pm (Soul & Nadège)
BACHATA:
– Intro/Beginner: Wed., June 5 to 26, 2019 – 7-8pm (Soul & Nadège)
– Intermediate (Dominican): Wed., June 5 to 26, 2019 – 8-9:15pm (Soul & Nadège)
*Pre-requisite: 2 sessions of Intro/Beginner Bachata
MONTHLY SOCIAL:
AfroLatin Fix (Salsa, Bachata, Kizomba & Zouk): Sat., May 25, 2019 – 7pm to 12am (workshops 7-8pm)
Class Schedule and Registration
*Schedule may take a few seconds to appear*
(*Registration required!)
–1 Session (Beginner) pass (1 class/week – valid for 4 consecutive weeks): at a discount price of $50 + HST
–2 Session (Beginner) pass for Beginner 1 & 2 (1 class/week – valid for 8 consecutive weeks): at a discount price of $80 + HST (NEW client only)
–1 session – Regular (Salsa or Bachata – 1 class/week – valid for 4 consecutive weeks): $65 + HST
–1 session – Regular (Salsa or Bachara – 2 classes/week – Valid for 4 consecutive weeks): $105 + HST
–2 sessions – Regular (Salsa or Bachata – 1 class/week – valid for 8 consecutive weeks): $105 + HST
–2 sessions for 1 couple (Salsa or Bachata – 1 class/week – Valid for 8 consecutive weeks): at a discount price of $170 + HST
–Drop-in: $20 (if there is spot left in the class after people registered for the whole session.)
-Unlimited Latin Dance (Salsa and/or Bachata) and fitness classes (with a min. 3 months contract valid for 1 Salsa, 1 Bachata class, 1 Specialty class and unlimited Fitness class): $120/month + HST
*15% Off for Older Adults (55 yrs+), Students (up to undergraduate) and City Centre Complex employees on our 2 sessions regular pass (Just write 15% as promo code and bring a valid proof of your status)